Chicago, Illinois Auto Insurance

Welcome to Illinois Vehicle Auto Insurance, Chicago. You're in the right place.
The State of Illinois requires all drivers, residents, and visitors to carry auto insurance. The minimum requirement is liability coverage, which helps cover damages and injuries that you cause.
Illinois Vehicle knows how important your financial security is to you, so think about adding coverage to help protect you and your vehicle as well. We offer all types of car insurance in the Chicago-land area and our agents are happy to help you get the coverage you need.
By accepting licenses from other states and countries, along with matrícula consulares, we make getting auto insurance in Chicago a breeze. We also offer auto insurance coverage through several insurance companies and will help find what works best for your family.
It's important to have the right insurance coverage in a city like Chicago where traffic is heavy. That's why Illinois requires all motorists to carry liability coverage at a minimum. The good news is, we offer the required auto insurance for Chicago, Illinois and more.
If you have a serious violation on your driving record, rest assured that our expert agents can handle SR-22 certificates and insurance. It's our goal to get you back on the road as soon as possible.
Visit one of our more than twenty convenient Chicago locations for a free quote! Once you see our great rates, you'll want to get a policy through Illinois Vehicle Auto Insurance right away.
About Chicago, Illinois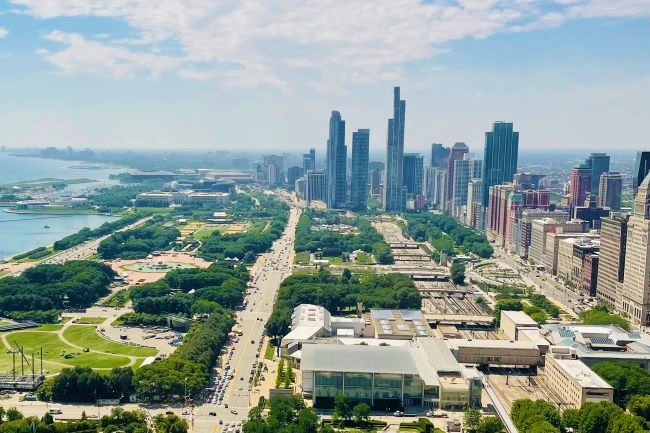 A few of Chicago's great parks and the city's famous skyline.
Chicago is truly a special place. It is not only what we consider one of the greatest cities in the United States, but it is considered universally loved across the world for its representation of cultures.
Chicago offers everything you could ever want and more in a major city: great food, museums, sports teams, and a rich history. Like all great cities, Chicago has a unique personality with Midwest friendliness and a welcoming attitude.
Once you've seen all the major tourist attractions Chicago is known for, we suggest venturing out into one of the city's many beautiful neighborhoods. Each neighborhood brings its own charm and melting pot of cultures.
Immerse yourself in Latino heritage by exploring Pilsen, Little Village or Humboldt Park. In these areas, you will find various cultural heritage and art museums, colorful street art, and excellent traditional Latino cuisine. If you're looking for something more European, check out Ukrainian Village, Little Italy or Greektown. Whatever you're looking for, Chicago has you covered.
While traveling, it's important to carry the best insurance with proper coverage. At Illinois Vehicle Auto Insurance, we'll help you figure out what insurance fits your specific needs best. Illinois State regulations require all motorists to carry minimum liability coverage. We offer the required auto insurance for Illinois and more.
Illinois Vehicle serves thousands of customers like you. We boast 43 stores in Chicagoland with more than 100 professionally trained and licensed agents, all happy to help you get the best policy. Below is a list of the major metropolitan areas in which we offer auto insurance.
Don't see a nearby city or town listed? Don't worry — you can always request a free online quote! Find out how much you can save by switching to Illinois, and then get started online or by phone.