Elgin, Illinois Auto Insurance

Welcome to Illinois Vehicle Auto Insurance, Elgin. You're in the right place.
Whether you live in Elgin or you're just visiting, you need the proper car insurance that Illinois Vehicle Auto Insurance provides. Illinois state regulations require all motorists to carry liability coverage at a minimum. We understand the importance of having the right car insurance and we set the bar high for customer satisfaction.
Our agents offer auto insurance in Elgin at the right price. If you have a serious violation on your driving record, rest assured that our expert agents can handle SR-22 certificates and insurance.
We are committed to serving the Elgin community and accept licenses from other states and countries, along with matrícula consulares. We also offer auto insurance coverage through several insurance companies, to help meet your family's unique needs.
Visit one of our two Elgin locations today. Get a free quote and take advantage of great auto insurance rates offered by Illinois Vehicle Auto Insurance.
About Elgin, Illinois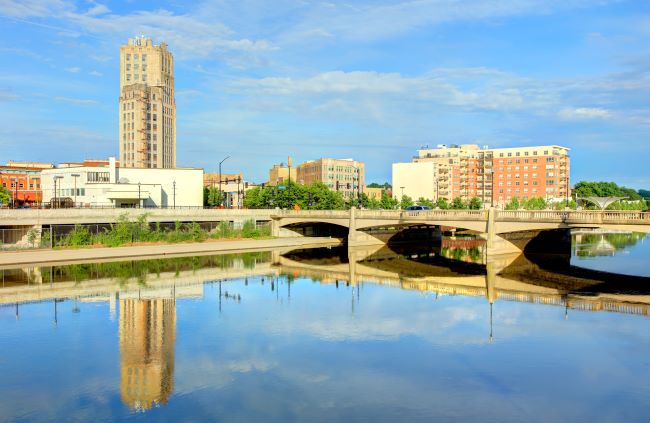 An amazing riverside view of Elgin from the Fox River that runs through the middle of the city.
It's time to hop in your car for a day trip to Elgin, Illinois! Just 35 miles northwest of Chicago on the Fox River, Elgin is considered to be "the city in the suburbs."
Founded in 1835 by the Gifford brothers, the city has stuck with its European roots and is full of historical attractions. Whether you're looking to explore an interesting museum or enjoy an afternoon in nature, Elgin is the place to be!
While traveling, it's important to carry the best insurance with proper coverage. At Illinois Vehicle Auto Insurance, we'll help you figure out what insurance fits your specific needs best. Illinois State regulations require all motorists to carry minimum liability coverage. We offer the required auto insurance for Elgin, Illinois and more.