Traffic Patterns in Chicago
Chicago is crowded-- so it has plenty of traffic. Here at Illinois Vehicle, we've used US Department of Transportation data along with online mapping tools to visualize when roads are busiest along with the busiest roads in the Chicagoland area.
Traffic by Time of Day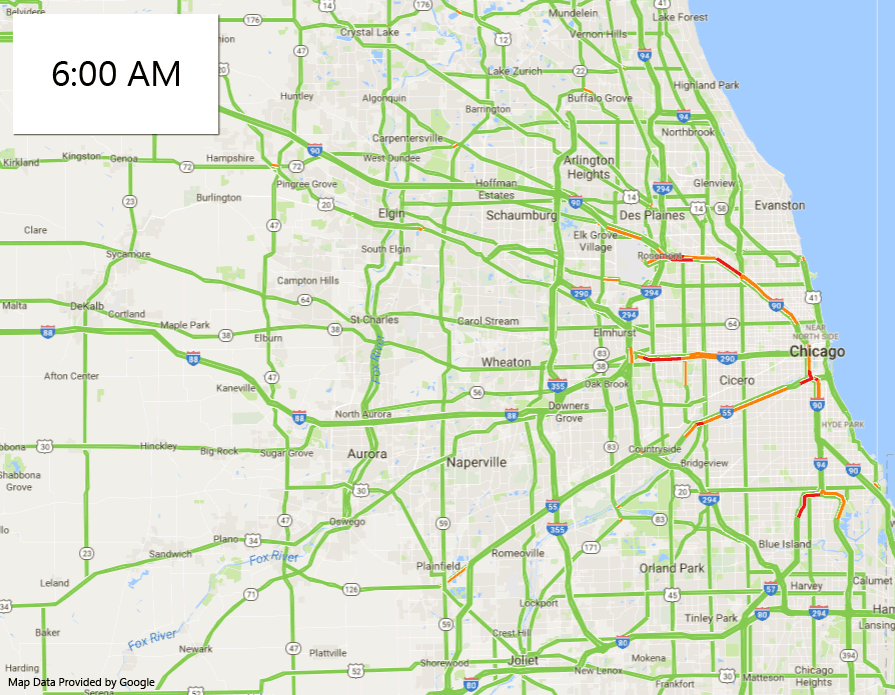 The above animation shows that traffic starts to slow starting each day around 6am, with congestion clearing at 10am. In the evenings, traffic begins to slow starting at 3pm, and subsides in most places around 7pm.
 
Busiest Stretches of Chicagoland Interstate
The interactive interstate map below shows that the stretches of interstate shown below are the most heavily traveled named interstates in the Chicagoland area.
I-90/I-94 - From Dan Ryan Expressway/Chicago Skyway junction, Exit 59C North to Pershing Road Exit 55A (South of City) - 330k
I-90/I-94 - From Claybourn to West Division Street (North of City) - 305k
I-290 - From South Pulaski Road to South Sacramento Boulevard - 220k
I-294 - From O'Hare Way to Irving Park Road - 212k
I-80 - From IL83 to US41 - 189k
Least Busy Stretches of Chicagoland Interstate
Most of the least busy stretches of Chicagoland interstates are newer suburban/exurban routes near less densely populated areas, minus the Chicago Skyway, which receives relatively little traffic as a result of the newer expressways providing similar routing without a toll.
I-90 - Chicago Skyway- 36k
I-355 - From IL7/West 155th Street to I-80 Junction - 55k
I-55 - From US52 in Shorewood to US30 in Plainfield - 72k
I-57 - From US30 in Matteson to I-80 Junction - 74k
I-88 - From US31 in Aurora to Farnsworth Avenue - 86k
 
Interactive Interstate Map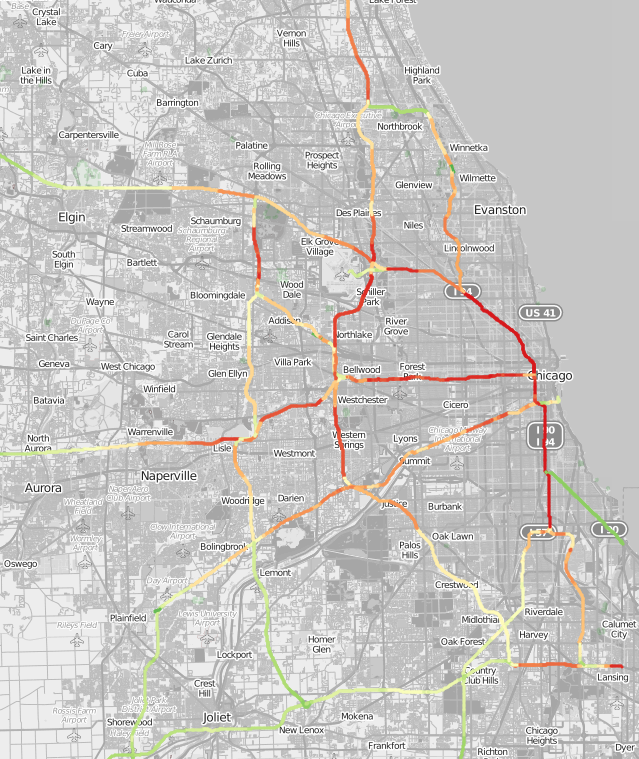 Busiest Non-Interstate Streets in Chicagoland
North Lakeshore Drive/US 41 from West Fullerton to North Cameron Drive - 160k average combined daily traffic
North McCormick Boulevard from West Touby Avenue to West Devon Avenue - 142k
US 53 from Palatine Road to IL62 - 150k
East Congress Parkway from Chicago River to South Michigan Avenue - 82k 
IL390 from IL19/West Irving Park Road to North Mecham Road - 70k
Least Busy Through Streets in Chicagoland
Elm Street in Winnetka - 100 AADT
Davis Street between Forest Place & Sheridan Road near Dawes Park - 103 AADT
143rd Street between Kedzie Avenue and California Avenue - 275 AADT
East 24th Street between South Michigan Ave & South Indiana Avenue - 309 AADT
198th Street between Torrence Avenue/IL83 and South Burnam Avenue - 500 AADT
 
Least Busy Street in Illinois (with available estimates)
Hunter School Avenue in Pleasant Mound near Carlyle Lake - 10 AADT
Busiest Streets over Chicago River
North Lake Shore Drive - 110k
East Congress Parkway from Chicago River to South Michigan Avenue - 82k (highway offramp)
North Michigan Avenue - 40k
West North Avenue - 31k
North Western Avenue - 31k
North Ashland Avenue - 31k                
West Roosevelt Road - 28k
 
Oldest Street in Chicago
The oldest street in Chicago is also one of the most unique. Dating to 1909, the alleyway between State and Astor street, behind the Archbishop of Chicago's mansion is made from wooden blocks soaked in creosote to prevent corrosion and improve flammability.
https://arcchicago.blogspot.com/2011/10/how-bunch-of-blockheads-restored.html
Interactive Cook County Street Map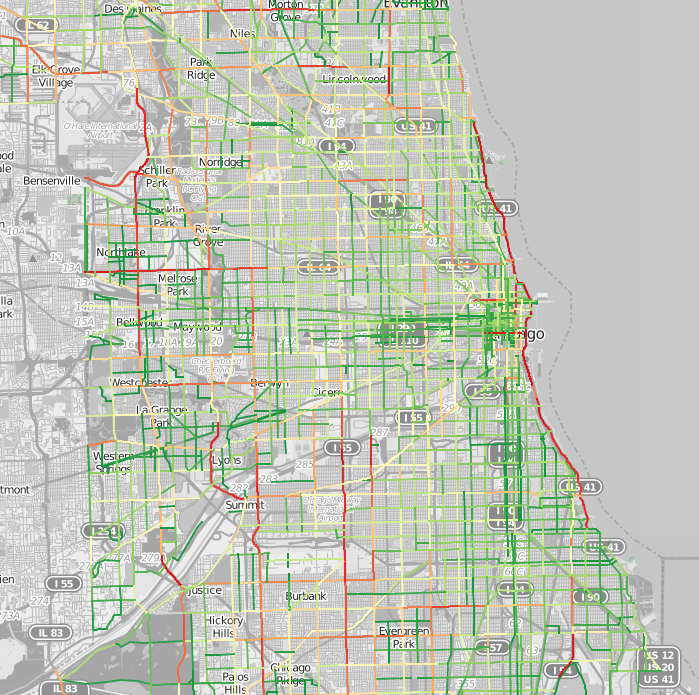 Interactive DuPage County Street Map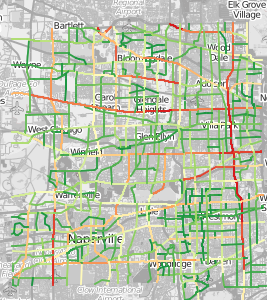 Interactive Lake County Street Map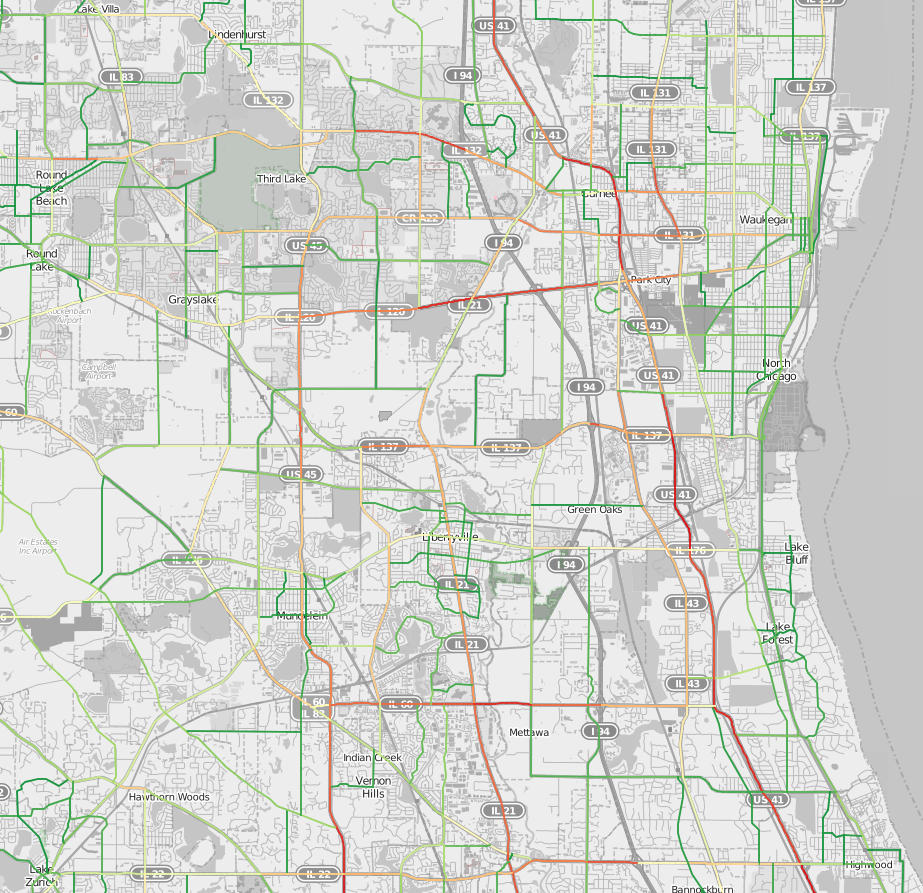 Interactive Chicagoland Street Map (*Caution* 22mb of JavaScript - May Freeze Your Browser)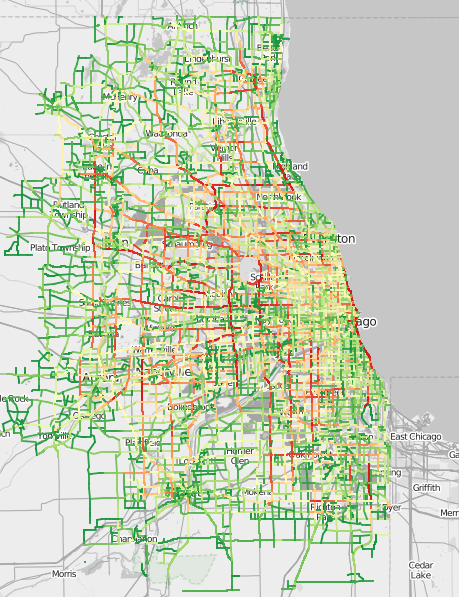 Glossary, Methodologies & Other Resources
AADT/ADT - Annual Average Daily Traffic/Average Daily Traffic - USDOT data counts the aggregate traffic in both directions. For bi-directional roads, divide this number by 2 for a rough approximation of daily traffic in each direction.
Dark red lines correlate with higher traffic volumes relative to all mapped lines, dark green lines correspond to less frequently traveled roads. Yellow lines are traffic volume lies between green and red.
We provide no warranties regarding the accuracy or correctness of this article, expressed or implied.
USDOT - Federal Highway Administration - Agency responsible for managing and disbursing federal funds for US roads and highways. Data utilized is 2015 HPMS geospatial data found at https://www.fhwa.dot.gov/policyinformation/hpms/shapefiles.cfm .
City of Chicago Average Daily Traffic Counts - https://data.cityofchicago.org/Transportation/Average-Daily-Traffic-Counts-Map/pf56-35rv/data - This data is different from the USDOT data used in our study. It does not include any choropleth/heat-mapping visuals. Traffic counters are employed in different locations and IDOT may use different methodologies than USDOT.