6 Things to Know When Driving in Chicago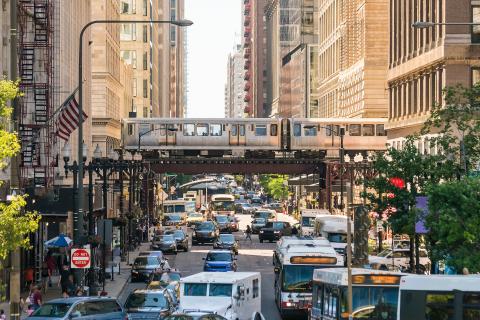 Similarly to most major cities, it can be a hassle to drive in Chicago. Constant heavy traffic, one-way streets, and a higher number of cyclists and pedestrians can all make big city driving much more difficult than driving in suburban or rural areas. Due to the difficulties of driving in Chicago, many city residents choose to go without their own car. However, if you're a reverse commuter or need to traverse the city for work, a car may be a necessity. If you're one of those Chicagoans who does own a car there are some things you should know before hitting the Windy City streets. Here are six things you should know about driving in Chicago:
1. Know the names- The Eisenhower, Kennedy, Edens, Dan Ryan, Jane Addams
Whereas most cities refer to expressways using letters and numbers, Chicagoans often refer to highways using official names. The expressways in Chicago are named for famous Chicago or national figures. If you listen to a radio traffic report, don't expect to hear the announcer say I-55 or I-190, those would instead be called the Eisenhower or the Kennedy. It's crucial to memorize the names of the interstates to know your way in and around the city. You can find a full list of expressways along with their names at TravelMidwest.com. 
2. Watch Out for One Ways
One way streets allow for higher speeds and less congestion in urban areas. However, one-way streets can also lead to confusion and force you to take non-direct routes to reach your destination. Like many major cities, Chicago has its fair share of one-way streets. Recently, one-way streets have become less popular as the city has tried to cater more towards pedestrians. However, you should always be careful to read street signs. There's no more terrifying experience than driving the wrong way down a one-way street!
3. Be Aware of Sporting Events and Concerts
Chicago is a huge sports town; all four major professional leagues have teams that play within the city limits. Whether it's a Sox, Cubs, Bears, Bulls, or Hawks game you can bet there'll be plenty of traffic. Along with sporting events, Chicago also attracts most major concert tours. If U2 or Beyoncé is playing at Soldier Field, it would be best to avoid the area surrounding the stadium. If you absolutely have to drive near one of these venues, it's a good idea to do it during the event itself. That way, while everyone is inside watching the game or concert the roads will have plenty of room. One weekend in which you may want to avoid the roads entirely is Lollapalooza. Hundreds of thousands of concert goers will flood the road, making it nearly impossible to drive in the Grant Park area.
4. Parking can be difficult to find
With the high number of cars in the city of Chicago, finding a place to park can be extremely difficult. Even if you can find a space, it may cost you a pretty penny. According to SpotHero, the average parking rate in Chicago is an astounding $34 per day! Outside of hotels, most parking garages will also charge you each time you go in and out. In order to find the best deals on parking, use apps such as SpotHero or ParkWhiz. Even if you don't use an app to find parking, it's always good to have a plan. If you don't think about where you'll be parking in advance, you could spend up to an hour finding a spot.
5. Be Careful of Pedestrians and Cyclists
Like many major cities, Chicago encourages walking and cycling. Walking or biking is not only good for the environment, but it's also great exercise. Along with experienced cyclists, Chicago offers Divvy bikes. Similar to ride-sharing services, Divvy allows you to rent a bicycle for a short period of time. While this initiative is great for the environment, it also leads to many inexperienced cyclists hitting the roadways. When cyclists are inexperienced, they may not be as comfortable sharing the road with automobiles. You'll have to be careful around any cyclists, but especially less seasoned riders. While cyclists and pedestrians can be frustrating, it is your responsibility as a driver to be aware of your surroundings.
6. Purchase a City Vehicle Sticker
All Chicago residents who own a vehicle are subject to the city's wheel tax. The funds from the wheel tax go towards repairing the streets of Chicago. While it can be frustrating to pay a wheel tax, just remember that it will help fill potholes and keep the streets safe to drive on. The cost of your vehicle sticker will depend on the size of your vehicle; prices currently range from $45.89 for a motorbike up to $458.95 for a large commercial truck. If you own an average sized passenger car, the wheel tax will be $86.69 per year. To find out more about city vehicle stickers visit the FAQ page provided by the city clerk's office. 
Driving in Chicago is no simple task. However, once you drive around the city for a few months you should know it like the back of your hand. Before you hit the road, make sure you're licensed, insured, and have your city vehicle sticker. As long as you drive cautiously, are aware of your surroundings, and follow the rules of the road, driving in the Windy City should be a breeze!